Welcome to Hollywood's Hollywood: 5 Things to See and Do in Burbank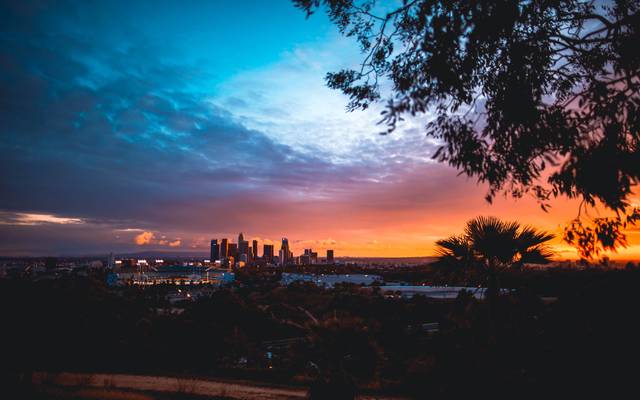 Ah, Burbank—Los Angeles' slightly less tinselly, not-so-distant cousin. This California classic doesn't always get the love it deserves—but here in the entertainment capital of the world, you've got your finger on the pulse of Hollywood. Beyond its central location and studio tours, Burbank holds so much to discover. Obviously, we're huge fans of this vibrant neighborhood so we've rounded up our favorite spots to inspire your next adventure. (You're welcome.)
What to See and Do
Visit Downtown Burbank
Moments away from Hotel Burbank, you'll discover colorful arts, culture, and culinary experiences worth writing home about. (And when we say moments, we really do mean moments.) Within walking distance, you can sip signature cocktails and play a game of shuffleboard at the legendary Story Tavern or catch a first-run flick at AMC theaters. A few more steps and you'll be at the iconic Flappers Comedy Club, where up-and-coming comics (and a few big names) can be found testing out their latest material. For a daytime diversion, we recommend a self-guided street art tour or a trip to Magnolia Boulevard to shop some of the best vintage and artisan retail stores in the state. If you're still looking for some Hollywood glamour, a celebrity home tour takes off less than a mile from the hotel. Honestly, what more could you ask for?

Tour Universal Studios, Walt Disney Studios, Warner Brother Studios, Etcetera
You've heard of these popular attractions, right? Hotel Burbank offers affordable and effortlessly chic accommodation for families and adventurers who want to stay close by. Head to Universal Studios to sip on a butterbeer at Harry Potter Wizarding World. Check out the outdoor sets of La La Land and Gilmore Girls, plus a room full of batmobiles with a tour at Warner Brothers Studios. Though Walt Disney Studios is nearby, it doesn't offer regularly scheduled tours to the public but you can head to Griffith Park to see the green space that allegedly inspired Walt Disney to create Disneyland. Here, it's all within your reach.

Visit the Iconic Dodger Stadium
Less than a half-hour away, Dodger Stadium is the third-oldest continually used park in Major League Baseball and stands as one of the most scenic settings in sports with sights of downtown LA to the south and the San Gabriel mountains to the north. Beyond baseball, the stadium has been home to concerts and guests that have included rock, pop, and opera royalty, motorcycle racing, and monster truck rallies. For superfans, there's a tour through the stadium that features a trip to the field, a visit into the Dodger Dugout, and more. Needless to say, if you're visiting for a big show, Hotel Burbank is the comfiest, most colorful, and convenient place to stay.

Soak in SoCal Culture at the Nan Rae Gallery
Take a ten-minute drive to check out the Nan Rae Gallery, located on campus at Woodbury University. This locally-loved exhibition space showcases international, national, and regional contemporary creators spanning a diverse range of artistic mediums. Featuring artist-curated group exhibitions and compelling work from Woodbury University students within the School of Media and Culture & Design programs, Nan Rae Gallery is known for the ways it provocatively engages the communities of Southern California with its fresh, inspiring point of view.

Eat, Drink, and Shop Your Heart Out
Burbank's dining scene has always been ahead of the curve. Within a mile of Hotel Burbank, you'll find stellar sandwiches, fantastic pho, and swanky tapas-inspired cocktail spots. When you've satisfied your cravings for SoCal flavor, you can get down to some real retail therapy. Whether you're here for small-batch or big-box shopping experiences, you don't have to go far to get your fix. Along with the Burbank Town Center, we've got everything from the biggest IKEA in North America to cruelty-free cosmetic boutiques. Treat yourself!
Bonus Adventure: Get Burgers at Bob's Big Boy
If you like your burger with a side of fries and California history, Bob's Big Boy has you covered. This legendary restaurant is credited with inventing the double-decker hamburger and pioneering elements of Streamline Moderne and Midcentury Modernism in its design. The 70-foot-tall neon sign and famous cowlicked mascot statue make great additions to any intrepid traveler's Instagram feed. It also boasts a variety of celebrity patrons, from the late comedian Bob Hope to filmmaker David Lynch. In the summer of 1965, the Beatles sat in one of the burgundy vinyl booths facing Riverside Drive. A plaque at the table commemorates the meal. Plus, it's open 24 hours.
These highlights are just the tip of the iceberg. There's a lot more to see and do in the entertainment capital of the world and we're proud to be your guides to Hollywood's Hollywood. See you soon.