OSO Kitchen: Clean & Delicious Eats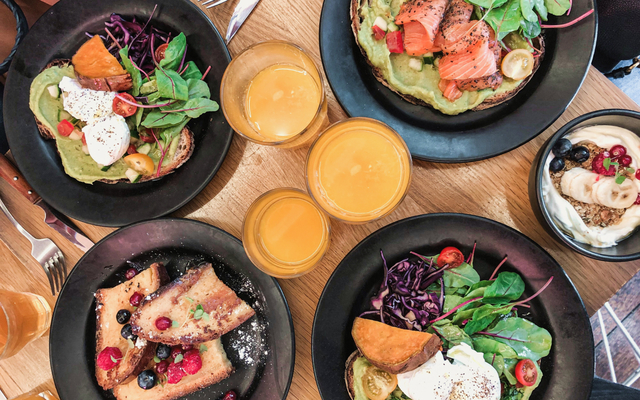 Coming soon to your SoCal adventure.
Imagine you're between meetings at one of our oh-so-outstanding hotels and the craving for a breakfast burrito hits—hard. Or maybe you're in desperate need of a diner-style smash burger after a night out in the LA area. Well, you're in luck, because they'll soon be right at your fingertips.
With OSO Kitchen, we are completely reinventing your run-of-the-mill hotel dining scene. Our five distinct restaurant concepts will invite you to a vibrant culinary adventure where you can find fresh, healthy eats and drinks to fuel every kind of California dream.
Get a taste of these options, coming soon to OSO Collection in downtown Burbank:
Lil' Green Gems
Lil' Green Gems is all about organic and locally sourced, flavorful salads that leave you feeling good.
Bien Burrito
Bien Burrito is wrapping up the good stuff in a warm tortilla for breakfast, lunch, and dinner. Don't miss our very own Bien Burrito queso sauce—a house specialty that's perfect with our handmade tortilla chips.
Patties Dive In Burgers:
Patties is all about that burger and fries (done two ways). Of course, here the burgers feature grass-fed beef and the fries are always extra crispy. And did we mention the can't-miss burger sauce?
Typecast Coffee Co.
For your early morning caffeine fix to a snack for your afternoon sweet tooth, Typecast Coffee Co. is brewing coffee and baking treats that satisfy any craving, all day long.
The Bar at Hotel Burbank
Whether you're looking for a specialty cocktail or a beer to go with your Patties burger & fries, The Bar at Hotel Burbank has it all.
Keep an eye out for updates. Can't wait to welcome you!